Styling For The Seasons
Spring is the season of rebirth, of new beginnings filled with sunny days, blossoming flowers, and cheerfulness. Summer is the time to chill outside, surrounded by friends, family, and lush nature. Fall is the season of foliage, the first warm fire pits, and Thanksgiving. Then there is winter, in all its whiteness, wool gloves, and boiling tea cups by the window. Each season has its charms, attractive, and beauty. And you can bring that same beauty inside, into your home, apartment, and office. 
How? By styling for the seasons! The good news is that you don't need to change your entire furniture to style for the seasons. Together we will look at decorations, colors, and atmosphere to make sure your design reflects the season outside your windows. 
Styling for spring
When you think of spring, you think: flowers, pastel colors, and bright light. All of these elements of the season of rebirth should reflect on your design and interiors. 
Let's start with the flowers. Spring is the time when everything blossoms and you can create beautiful bouquets of tulips, daisies, and irises. If you don't have time to go to the florists or to create delicate bouquets, you can choose to use one of the many online services. One of them is The Bouqs. On the other hand, a plant that doesn't know any seasons is the orchid. When it blooms, the flowers are enchanting. Then, with the right amount of care, you will always have a green plant, cheerful and spring-like. 
You can base your new pastel colors based on the flowers and plants you have. Spring isn't about bright colors, but soft tones like the perfect Hamptons palette: delicate and charming. During spring, let the light in. While colors can be soft, the light of the rebirth can shine bright, reflecting on your plants and on your floors. 
Styling for summer
This is the time of bright colors. You can repaint one of your walls, add colorful details in your decor, and change the paintings to reflect the beauty of summer. When you are styling your interior design for summer, you can also choose patterns. This is the season to party at the beach, relax with a colorful cocktail by the pool, and take long hikes in the mountains. So, think about flamingos, ice cream, and tropical fruits. The more color, the better. 
Which is why decorations like sun catchers are perfect to style for summer. Just like the ones made by Pariajoys. They are handmade creations, with shiny transparent colours and top-quality glass paints. Styling for summer is supposed to be fun. The rule is: the less rules, the better. 
It's time for fall
Here comes the season of foliage, Halloween, and Thanksgiving. The colors of fall are warm, and earthy. It's the orange of the pumpkin, the red of the leaves slowly falling, and the shiny brown of chestnuts. You can fill shelves with miniature pumpkins, adding Dia de Los Muertos details, and filling tables with scented candles. The seasonal perfumes include cinnamon, vanilla, and cedar. If you choose artisanal autumn candles, then you can also choose scents such as "rainy day reading" or "candy corn." 
While spring is the season for rebirth, fall is the opposite. Everything around us starts to fade away, waiting for the rest of winter. Instead of fresh flowers, consider adding dried bouquets to your home and apartment. These arrangements last longer and still give your space color. Just because outside nature is fading, it doesn't mean you have to.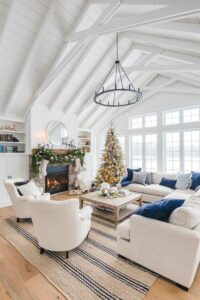 Winter Wonderland
Winter is white. Or is it? After all, it doesn't snow everywhere during winter. This is the season to turn your home into a cabin, warm and cozy. So, wooden details, bright colors, and lights that remind you of fire. In fact, just because you might not have a real fireplace, it doesn't mean you have to give up on the relaxing feeling of the flames. However, these aren't flashy Christmas lights. They are warm and a source of brightness while outside it's gloomy. Other elements that represent winter are pinecones and dried fruits, perfect decoration for this season. Garlands are the ideal compromise.
Styling for the seasons doesn't have to be a nuisance. You can invite friends and family to decorate together. Or you can make a solo party, holding a cup of fresh coffee while you arrange throw pillows, hang paintings, and find the perfect spot for your bouquets.