Top 8 Sideboards Which Will Give You Extra Storage Space
Sideboards are practical storage and display item that gained popularity in the late 1960s. Also known as buffets, they were originally created as additional serving surfaces for dining rooms. Today, sideboards may be used in a variety of rooms in your home, from the foyer to the living room and even the home office. They add charm, character, and sophistication to a room, making a statement no matter where placed. These furniture items are similar to dressers, except they are longer and sit lower to the ground.
To pay homage to their mid-century forebears, today's wooden sideboards frequently use materials like walnut and teak. However, many of them have a touch of glitz, which is a flash of gold or a rich textural accent that updates them. These accents bring them in line with our modern fascination with luxury and elegant home interiors. Use caution when measuring your space for this item. Give your wooden sideboard the space it requires. Keep in mind, that some cupboard doors open outward, while others slide.
We've picked together our favorite sideboards for you to boost your storage style taste. Whether you're searching for ultra-cool industrial-type designs, mid-century retro elegance, or a painted wood country vibe.
French Style Sideboard
The Marais Sideboard is a mix of traditional French style and a touch of château. Its French provincial flair adds beauty and practical storage to any space. With two big cabinets and hand-painted finish on the wood plinth, the Marais sideboard is simple yet efficient for your home. It's compact while offering generous storage. Marais Sideboard features a thin profile to conserve space, yet the spacious drawers and shelves can accommodate all of your needs. With this sideboard, you can enjoy the French countryside in the comfort of your own home.
Mid Century Sideboard
When it comes to wooden sideboards, most people choose the mid-century aesthetic. After all, this piece of furniture is synonymous with mid-century modern style and décor. A black mid-century sideboard, whether in a light brown finish or dark mahogany, is a timeless choice for any home. With our Maison Sideboard, you may add storage space to a mid-century scheme.
With dimensions that are precise and sufficient, you'll have plenty of space to store anything from linens and dinnerware to bedsheets and clothing. This item is made handcrafted from a combination of mahogany and engineered wood and stands on short, carved legs. It has four drawers and two cabinets, both with clean-lined brass drawer handles for a contemporary look. For people who are looking for a mid-century design wooden sideboard, Maison is a perfect choice. Its great storage and wonderful aesthetic make it a wonderful simple statement piece for any room. 
Rattan Sideboard
A rattan sideboard is a fashionable way to add a touch of coastal glamour and function to your home. The Manado sideboard is a great storage solution in many ways and works in all areas of your home. Each item is handcrafted from quality hardwood and handwoven rattan, resulting in a stylish item that you will be pleased to display.
A rattan sideboard is a simple way to add more storage to your living area. Display framed pictures and other décor items on the top while storing games, movies, and other media inside. Make a little bar out of the sideboard and in the dining area, which you and your visitors can enjoy for years to come.
Multiple cabinets with adjustable shelves and rattan-wrapped doors exude a natural style ideal for any living or dining space.
Modern White Sideboard
Modern and contemporary design is one of the best choices if you want a white sideboard. The Frejac sideboard petite is compact in size but offers super storage. Two practical sliding doors with wire detail give your home an organised touch. A hidden solid slide-out tray with runners allows you to prepare drinks without disturbing your lamps, frames, or curios sitting on top of the sideboard. One could call it the perfect cocktail sideboard allowing for wine bottle storage on the lower shelf and glasses on the top shelf. A nice addition to a living room, family room, or kitchen.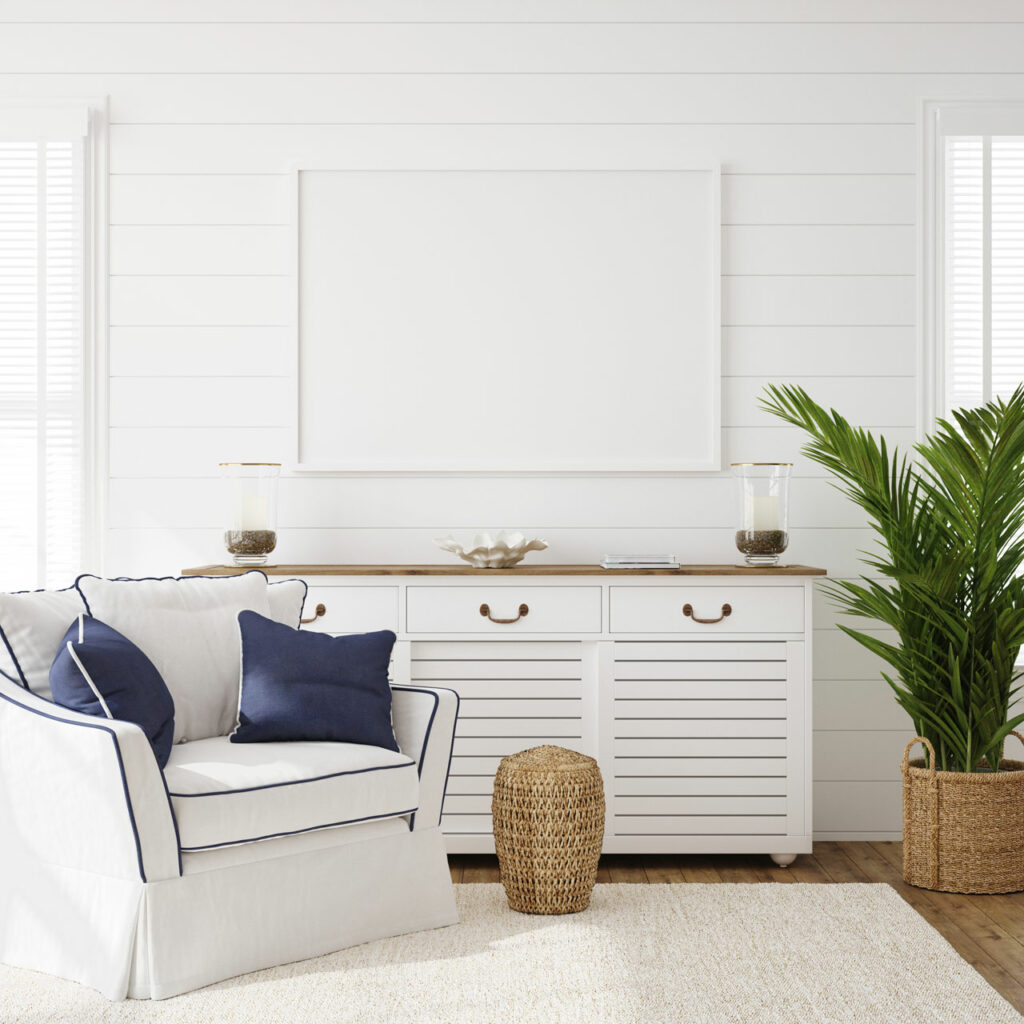 Drawer Sideboard
Moreno is one of our most popular wooden sideboards, showcasing its exquisite soft profile edges and fine detail. The Moreno range has the most extensive variety of products suited for all the rooms such as dining, living, bedroom, and office.
The simple lines and subtle finishing contrast make the Moreno sideboard a classic instant. The contemporary brass knobs are definitely a high-end piece of artistry. It has a unique border with a smart and concealed drawer function, the distinguishing characteristic of this stunning collection of solid hardwood.
It consists of a modern and coherent look with a contemporary design with six spacious drawers that hold all you need. Along with extra high drawer sides with adequate extensions to make room and usefulness available.
Industrial Sideboard 
The Tommy sideboard is the perfect statement for homes needing a feature piece. We love how versatile it is. It can fit in any design scheme and be decorated however you like, and it will blend in perfectly. This sideboard has a stylish, modern style thanks to the brass square handles. The Tommy offers eight deep drawers for all your storage needs and is showcased on an iron base with an industrial feel. Its simple box-style elements will really wow your guests.
Perfect size entertainment unit, stylish sideboard or simply a great storage unit for your bedroom. The options are endless with this amazing piece.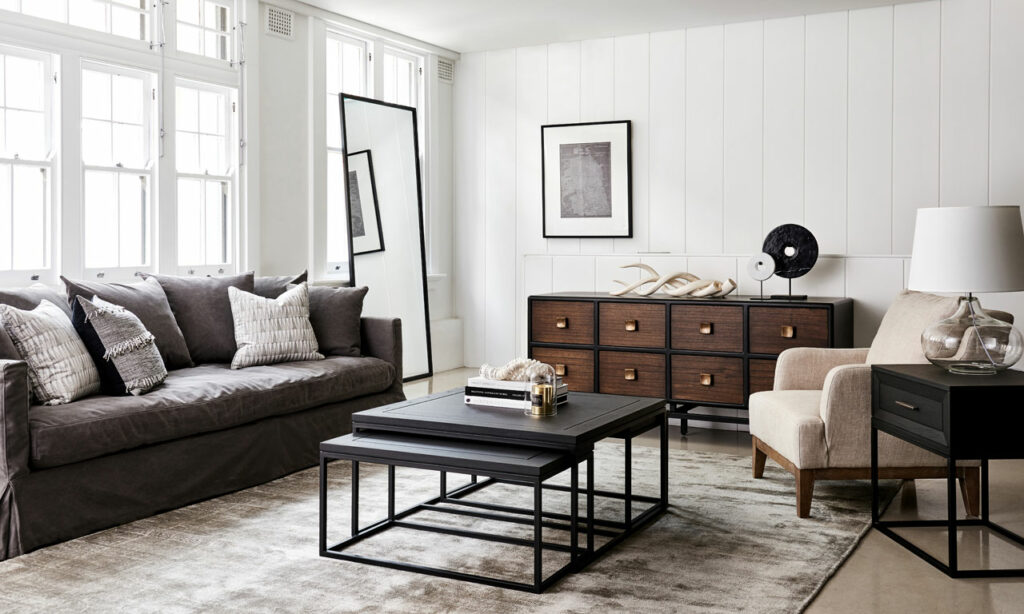 Coastal style sideboard
The term "coastal living" refers to being surrounded by a beachy environment, such as natural light, soft tones, and a clean aesthetic. The furniture that complements it, should have a natural vibe. The Henwick sideboard's core is its unique ability to fit a wide range of styles – coastal, casual, and country – using a combination of classic finishing and textured details in form of Kubu rattan baskets. The simple style evokes a casual feel and adds depth of color and warmth, not to mention storage to your home.
With this coastal sideboard cabinet, you can add outstanding flair and clever organization to your kitchen or dining room. It has four doors with shelving for storing dishes, utensils, place settings, and more. While the baskets provide space for cutlery, glasses, and napkins. The Henwick sideboard is the ideal combination of elegance and functionality, and it looks great in any coastal setting!
Classic Buffet
Well arrange dining settings are beautiful on their own, but they're much better when paired with a classic buffet. Classic Kitchen and dining buffets are not only beautiful to look at, but they are also quite functional. They store all your entertainment goods and save you time preparing your table decor.
The Louis buffet has an impeccable style and fits beautifully in classic design schemes. The traditional form and elegance are inspired by the beautiful "tambour doors" design. Coupled with great storage and a wonderful presence, the Louis buffet is truly unique and is a wonderful classic statement piece.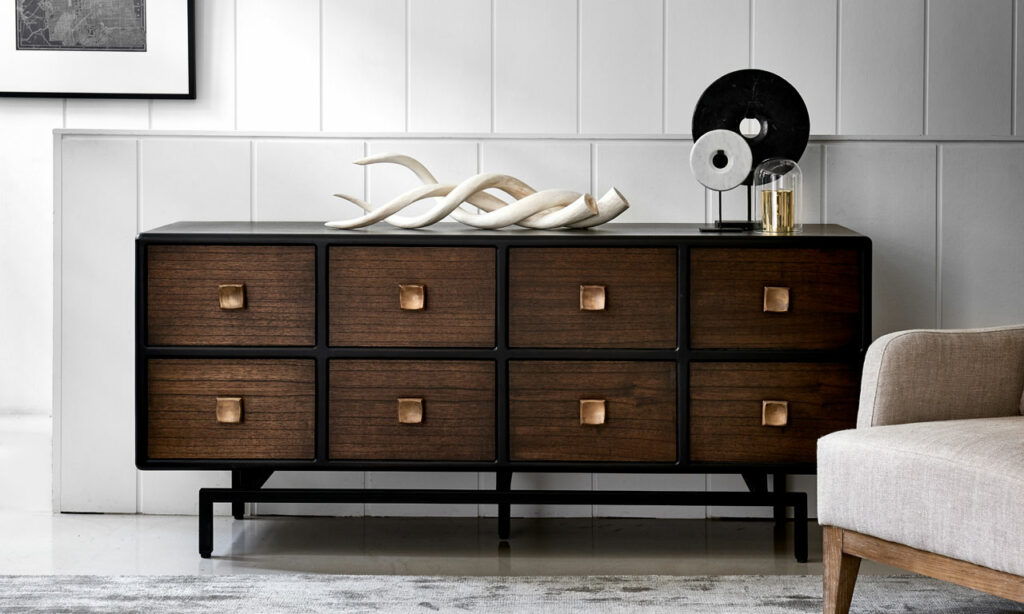 Conclusion
Every home can benefit from a sideboard, as it's both a beautiful and functional addition to any space. Whether you're storing dining utensils, displaying family photos or simply finding a place for all the odds and ends you haven't managed to sort out yet, a sideboard is an ideal solution. As well as being a practical piece of furniture, a sideboard can also be extremely stylish.
All of our sideboards showcase elegance, and longevity. We have a wide range of sideboards to suit all budgets. Look around in our shop or come visit us in our showrooms.