Creating a Haven of Relaxation: How to Design a Luxurious Bedroom Retreat
Creating a luxurious bedroom retreat is all about turning your personal space into a place of comfort and relaxation. A well-designed bedroom should be more than just a place to sleep – it should be a sanctuary where you can escape from the stresses of daily life. Whether you're starting from scratch or just looking to refresh your current decor, the process of designing a haven of relaxation is exciting and fulfilling. By incorporating comfortable bedding, statement pieces of furniture, soft lighting, and decorative touches, you can turn your bedroom into a peaceful and stylish retreat. With our expert guidance and top-notch products, you'll be well on your way to creating a space that you'll love coming home to every day.
Keep on reading to find out how!
Step 1: Choose a Neutral Colour Scheme
The color of your walls and bed linens can have a big impact on the ambiance of your room. Opt for neutral, calming colours like white, cream, beige, or gray to create a peaceful and soothing atmosphere. Neutral colours are versatile and timeless, and they allow you to easily switch up the decor with different accents and patterns. Consider adding textured elements, such as a woven throw or a patterned duvet cover, to add some interest to your neutral space. For example, you could use a soft cream colour on the walls and then add a textured, beige throw blanket and a patterned, gray duvet cover to the bed.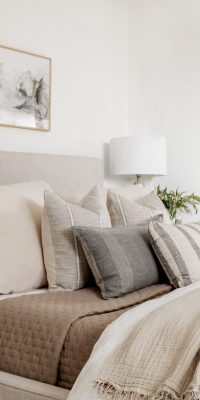 Step 2: Invest in Comfortable Bedding
A comfortable bed is the foundation of a luxurious bedroom. Invest in high-quality bed sheets, pillows, and a plush duvet or comforter. Opt for natural materials like cotton, silk, or linen to ensure a good night's sleep. For sheets, consider a high thread count, like 1000 or higher, for a soft and luxurious feel. Don't forget to add a throw blanket and some decorative pillows for added comfort and style. A throw blanket not only adds extra warmth but can also be used as a decorative element to add texture to your bed.
Step 3: Add statement pieces of furniture
Incorporating statement pieces of furniture, like a chaise lounge, armchair, or ottoman, can elevate the overall look and feel of your bedroom. Consider choosing pieces that are both functional and stylish, such as a plush armchair with a side table for reading or a chaise lounge for lounging. A chaise lounge, for example, can provide extra seating and a comfortable place to relax, while also making a statement in the room. If you have enough space, consider adding a seating area with a loveseat or sofa.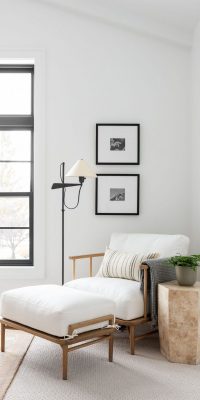 Step 4: Incorporate Soft Lighting
The lighting in your bedroom can make all the difference in creating a relaxing atmosphere. Soft, warm lighting will help you wind down at the end of the day, while brighter lighting is perfect for getting ready in the morning. Consider adding a dimmer switch to your main light source, as well as some bedside lamps for a cozy ambiance. Bedside lamps not only provide additional light for reading, but they also add to the overall aesthetic of your room. If you want to take your lighting to the next level, consider adding a chandelier or pendant light over your bed for a touch of glamour.
Step 5: Add Decorative Touches
Finally, add some finishing touches to your bedroom retreat with some stylish decor. A vase of fresh flowers, a statement wall art, or a beautiful throw rug can add a perfect touch of luxury. Consider choosing pieces that reflect your personal style and complement the overall look of your room. For example, if you love botanical prints, consider adding a framed print or two to your walls. A beautiful throw rug can also add warmth and texture to your floor while also tying the room together.
Creating a luxurious bedroom retreat is easier than you might think. By following these simple steps and incorporating comfortable bedding, statement pieces of furniture, soft lighting, and decorative touches, you can turn your bedroom into a haven of relaxation. Don't be afraid to experiment and have fun with your decor. Mix and match patterns, textures, and colours to create a personalized and stylish space that you'll love coming home to every day. Remember, the key to creating a luxurious bedroom retreat is to prioritize comfort and relaxation. So, take your time and enjoy the process of designing a space that is truly your own.
Visit La Maison for all your furniture and decor needs and start creating the bedroom of your dreams today! With our wide selection of high-quality products, you're sure to find the perfect pieces to bring your vision to life. Whether you're looking for a new bed, bed linens, lighting, or decorative accents, we have everything you need to create a luxurious and relaxing space. So, why wait? Start your journey to a luxurious bedroom retreat today!