How To Tablescape
The table becomes a world in itself, a landscape filled with fragrance, color, and beauty. It's not just a piece of furniture anymore, somewhere comfortable to have dinner with the family or to enjoy a cocktail with friends. The art called "tablescape" has turned tables and desks into exclusive works of design. The big picture makes the small one, filled with details. 
Every situation and occasion calls for a different mood, decoration, and palette of colors. You don't use Santa Claus' ornaments during Easter, do you? It's not decor for the windows, stairs, or shelves. Tablescape puts the attention and the decor on your table and there is a style for anything and anyone, including tablescape for the afternoon tea or for Thanksgiving. But, first things first.
What is tablescape?
It's a legit question you might have. Two words for one term: table and landscaping. These two don't go along too often. Usually, a table is just a table. Until it isn't. This latest design trend turns your table into a piece worthy of attention. Whether it's for your kid's birthday, your sister's wedding, or a casual lunch with your partner, tablescape has the style you have been looking for. You are using decor and accessories to create a story and a vibe, a connection that brings your guests from the door to your table.
How? Thanks to tablescape accessories, which include:
Ceramic napkin holders
Chandeliers
Place card holders
Bouquets
Table runners
Napkin rings
Centerpieces
These are only some of the design essentials you will need for your work of tablescape. Now, let's take a look at how you can create the perfect setting for each occasion.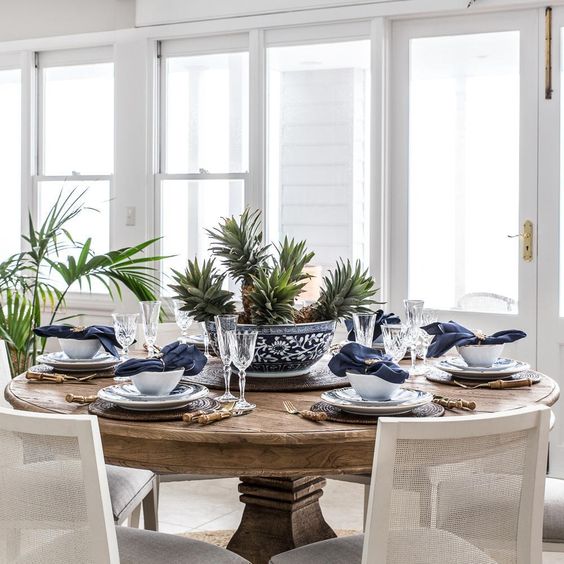 Where to begin
You can begin from the occasion you are creating the tablescape for.  And it doesn't have to be anything special. It can simply be for a romantic dinner, a gathering of friends to watch the Superbowl, or to treat yourself. Sure, you can also set your table with handmade place card holders for a wedding, Christmas, and a baby shower. Any day can become special.
We can't all be interior designers and decorators, so start by looking for inspiration. You can choose a Pinterest board, videos, or you can pick one accessory and then build your tablescape from there. Perhaps you've fallen in love with a bouquet of dried flowers and you can use it as a starting point and inspiration.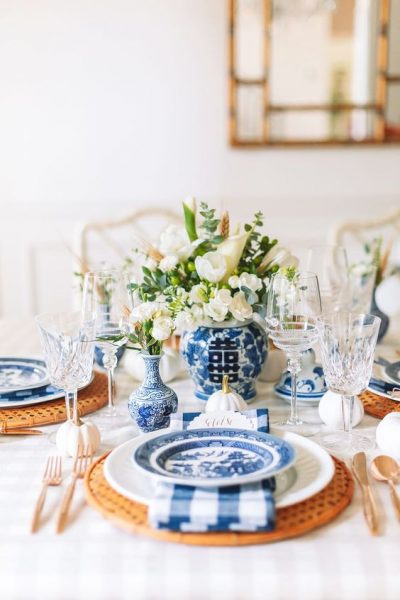 Tablescape, from the base to the details
There are many different aspects to consider when you are creating your tablescape:
Base
Centerpiece
Place settings
No matter what mood and color palette you choose, you will always need a strong base. Whether it's a table runner or a tablecloth, that's up to you. Of course, if children are coming to your event or if you are serving barbecue, it might be best to choose a cloth that covers the entire surface to avoid any sticky stains. Otherwise, runners are a great option, especially those made of paper, where you can encourage your guests to write, draw, and play.
Once the base is set, it's time to choose the centerpiece, or the focus of your tablescape. Typically, centerpieces are floral displays although we suggest you don't use tall ones that might obstruct the view. Instead, choose small centerpieces that aren't bulky. However, flowers aren't the only centerpieces for your set. You can also choose chandeliers, as long as they aren't too high. On the other hand, candles are less cumbersome. You can put inside glass vases or containers to make sure no one accidently touches the flame.
Bonus tip for the candles: prefer neutral or subtle fragrances. Some of your guests might dislike strong or specific fragrances that could make them uncomfortable.
So, now you have your base and the centerpiece. Next comes the place settings. This is when you ask yourself: what do you want guests to see when they sit down? You add all the relevant plates, bowls, and silverware. Without a doubt, a placemat or charger makes an elegant impression. The whole setting looks almost cleaner when the plates aren't touching your tablecloth or runner. Next to the plates go the napkins, which can have a ring, which makes the tablescape look more organized. Now, it's time to think about the details.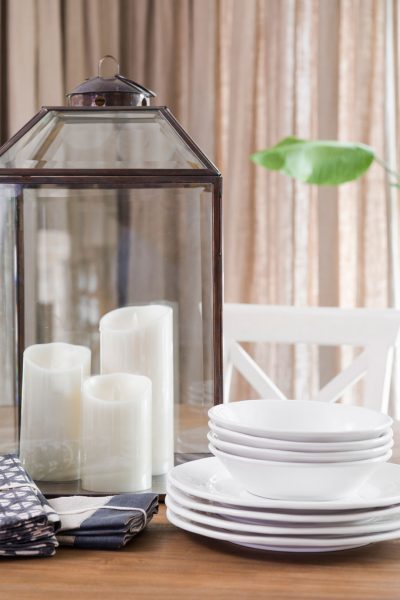 Adding your own touch
This is where you can get creative. Your guests will see who you are in the tablescape accessories. Your personality and taste shows in the details, like ceramic eggs during Easter or straw bottles for a vintage touch. You can also add place setting words, like the wooden word "thankful" for your tablescape for Thanksgiving. Mason jars are also ideal design essentials, since you can fill them up with anything, from candies on Halloween to strings of lights for a night party.
You can also decorate your chairs with ribbons, lace sashes, or Christmas wreaths. This way, every piece of your room and space becomes part of the tablescape and experience. Finally, there is one personalized detail that everyone will love:
GIFTS
It doesn't have to be anything big and flashy. The gift of your tablescape is a memory of the event, something that will make your guests smile. For example, tiny glass ornaments, mini sparkling wine bottles, and tea test tubes -charming and useful.
Tablescape allows you to be creative and have fun. It's truly a landscape, filled with color, texture, and beauty.